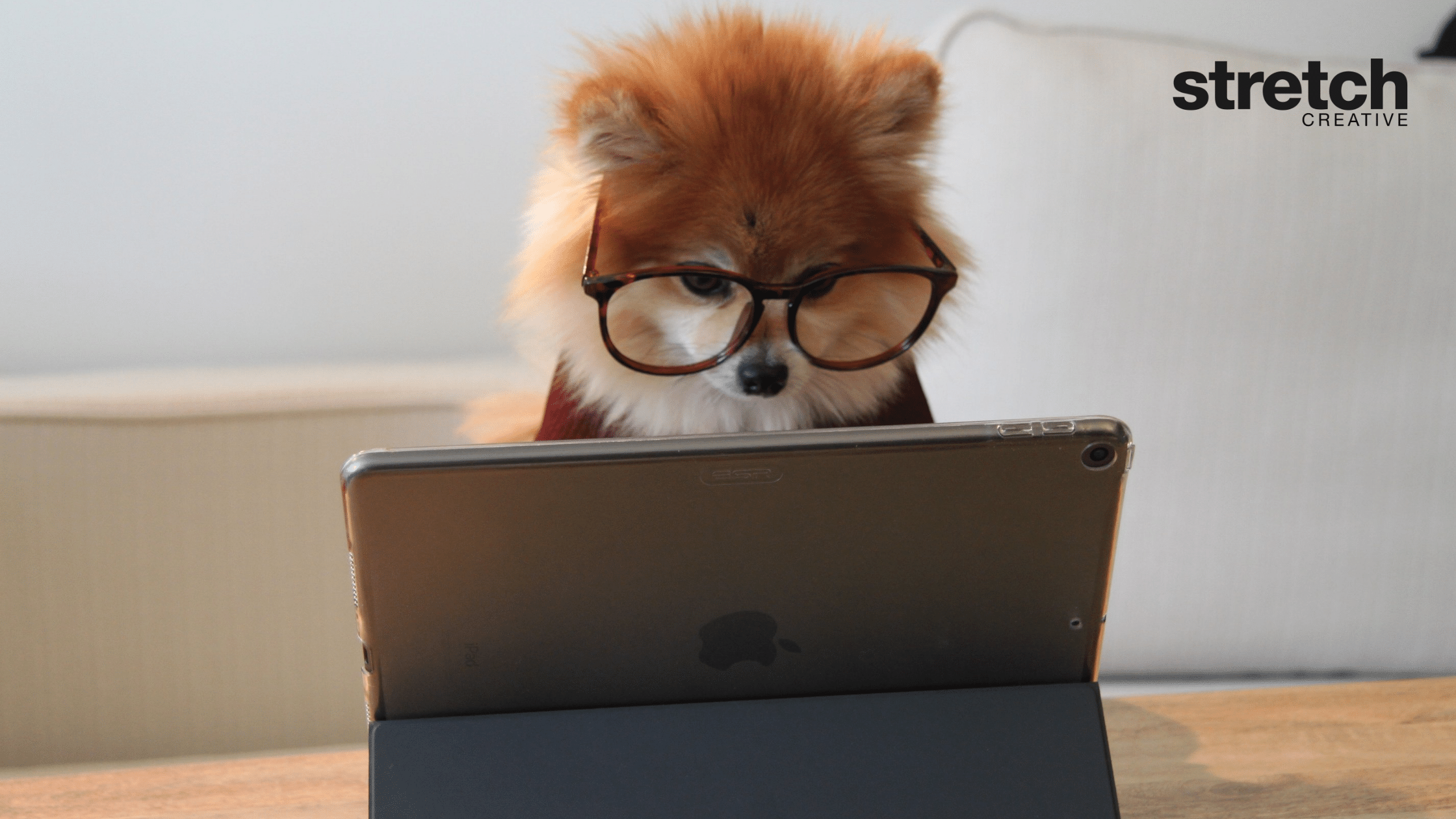 For direct-to-consumer brands like yours, having DTC product descriptions that sell is key to your success. Your customer acquisition costs are higher than what traditional retailers pay. In some way, you've paid for every potential customer that finds your site. If you're not writing product descriptions that convince them to buy, your investment is going to waste.
Effective product descriptions can positively impact your organic search rankings, too. When you craft product descriptions with search engine optimization in mind, you can increase your chances of the search engines ranking you higher on the page.
The following success stories show how effective product descriptions have driven the success of DTC businesses:
DTC Product Descriptions: Example 1—Shinesty
Shinesty sells apparel, underwear, and accessories with playful prints and graphics. They recognize that the appeal of their products is their novelty. People choose to buy their designs because of the reactions they'll get from others when they wear them. Buyers expect to be greeted with laughter and smiles and buy from Shinesty to stand out from the crowd.
Keeping this in mind, Shinesty appeals to customers' sense of humor with their product descriptions. Their product description copy is every bit as imaginative as the patterns and graphics they sell. Most of their descriptions are just short paragraphs that highlight the personality and spirit of the product in question. They strive to get a quick grin out of the shopper to remind them of how others will respond to the product.
DTC Product Descriptions: Example 2—Stance Socks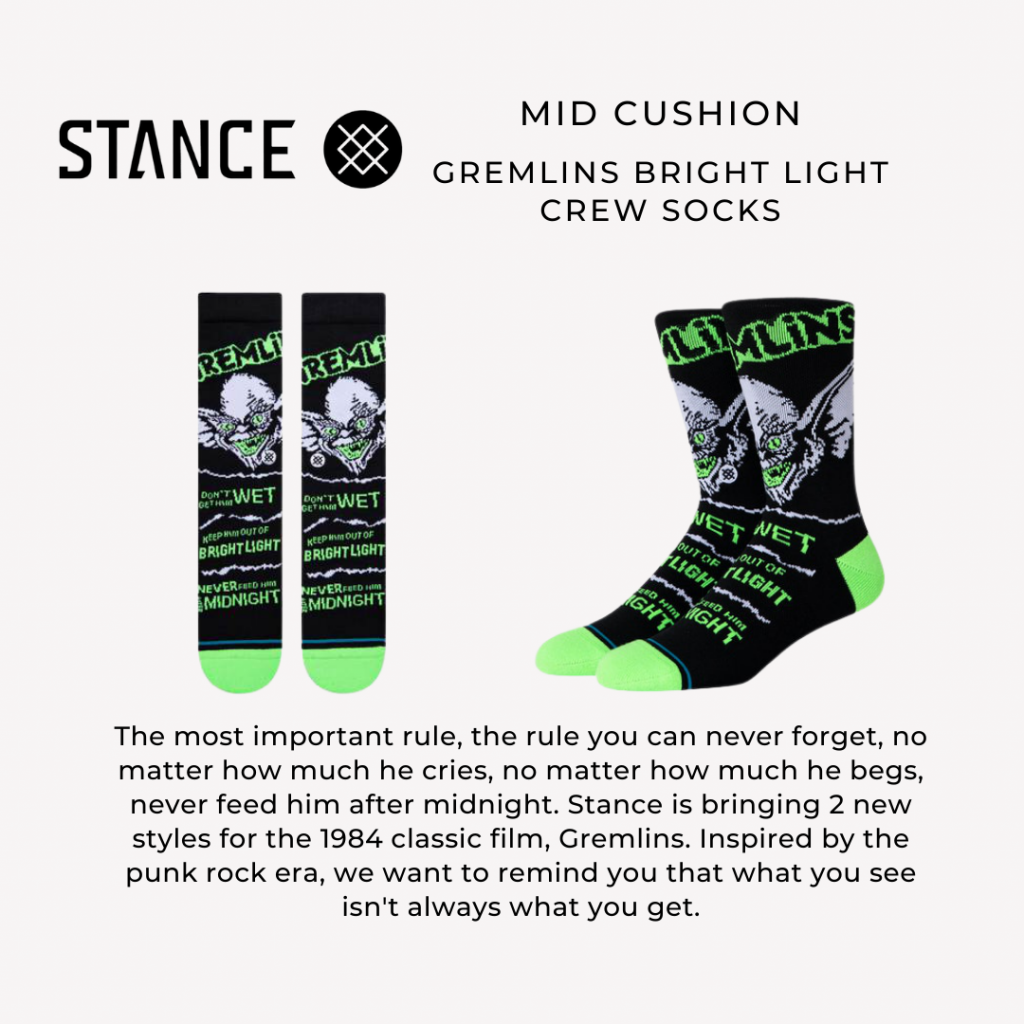 Stance Socks creates truly unique socks by collaborating with well-known brands from pop culture, entertainment and sports. Their products appeal to fans who want their accessories to reflect their interests but don't want to sacrifice quality in the process.
To appeal to their ideal buyer, Stance Socks leverages their brand partnerships in every product description. They reference the collaborating brand naturally and use its story to influence the copy. This not only appeals to the interests of buyers but also gives the impression that Stance Socks is as into the movie, TV show or team as much as the reader. The sense that they're buying from a fellow fan helps to increase the desire to make a purchase.
DTC Product Descriptions: Example 3—Glossier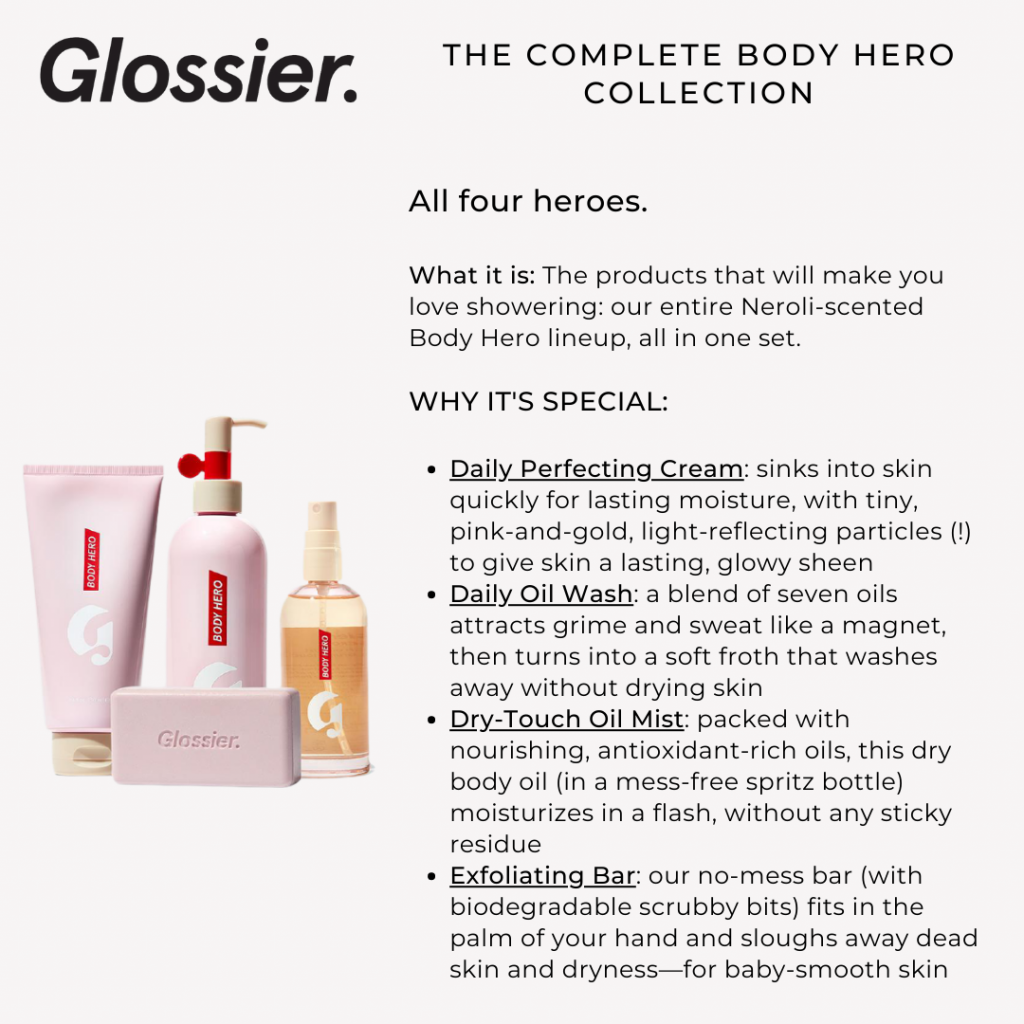 Glossier grew out of the beauty website Into the Gloss, where people gathered to talk about the products that they love. They noticed a disconnect between the needs of consumers and the products available to help them care for their skin and enhance their natural beauty. Today, their brand is synonymous with straightforward, effective products designed with the needs of real users in mind.
Every product description Glossier crafts reflect their mission. Instead of presenting lengthy paragraphs, their product description format breaks the content up into snackable sections that describe what it is, why it's special, what's good to know about it, and what the key ingredients are.
Not only is this product description format easy to read, but it allows Glossier to seem like a trusted friend providing advice. Customers don't feel like they're getting a sales pitch when they read the product descriptions. Instead, the copy leaves them better informed and able to decide for themselves which products are right for their needs. This is crucial in an industry where so many products use big promises and hype to sell products that don't deliver.
Tips for writing DTC product descriptions
Before you begin writing product descriptions, check out these useful tips that help you go beyond basic descriptions for your online store:
Tip 1: Tell the full story
Your product's story is the starting point for a great product description. Craft a story with your words in every product description. Don't just explain the key features. To get started, ask yourself:
What problems does my product solve?
How is my product better than my competitors?
Why would someone need a product like mine?
Use the answers to the questions to help create the story for your product description.
Tip 2: Focus on the product benefits
Shoppers aren't really reading your product descriptions to find out what you're selling. What they really want to know is why they should buy it. Both the bullet points and product description copy should focus on the benefits of your products, not just their features. Show what the real benefit of each key feature is to convince the reader that they simply have to buy your product.
Tip 3: Know who your target audience is
You can't do a great job at writing DTC product descriptions if you don't know who you're selling to. Create complete buyer personas that take into consideration who your customer is, what matters to them and what struggles they face. The more complete your buyer personas are, the easier it will be to write a more complete description that will speak directly to them. Each of the stories outlined above is a good example of how the style and details of product descriptions can be tailored to a particular audience.
Tip 4: Use natural language and tone
Great product descriptions sell without sounding sales-y or gimmicky. Choose natural language and a tone that fits your target audience. Make sure any power words you choose are in line with the overall mood of your description.
Tip 5: Reflect your brand's tone of voice
Well-written examples of successful D2C product descriptions have one thing in common: a strong brand voice. Your product descriptions can give your online store an identity that makes your brand stand out. Make sure that every part of your description from the product title to the bullet points to the short paragraph description of the product details sounds like your company.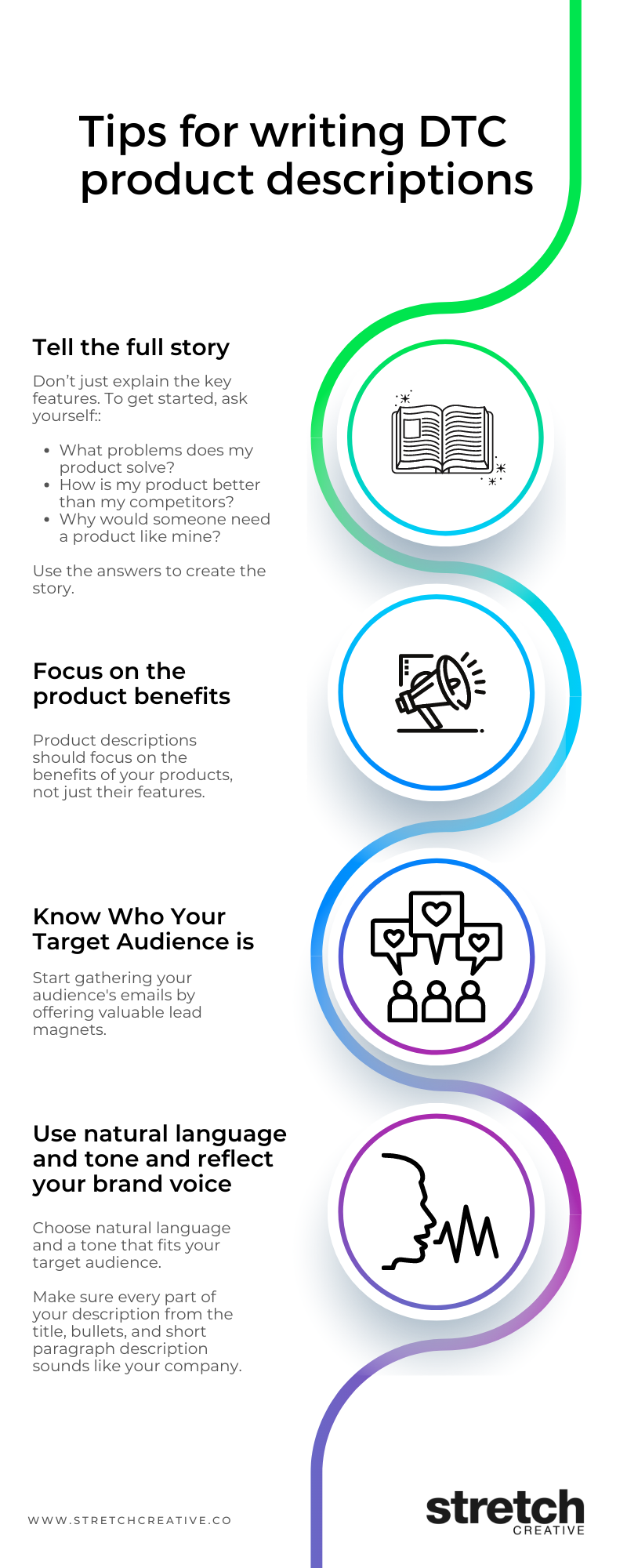 A compelling product description will always pay you back.
Even with the few tips outlined above, it can take years of practice to master product description writing. Having pros write DTC product descriptions for your eCommerce site instead will pay off in converting potential customers to actual sales, but to get results for your online business, who you choose to write for your eCommerce website matters. Our team at Stretch Creative has already provided persuasive product descriptions to some of the best DTC brands online, and we're ready to write product descriptions that sell for your brand. Contact us today to learn more.
DTC Product Descriptions FAQs
What is product description copywriting?
eCommerce store. They take the place of salespeople and explain the features and benefits of products. Writing strong DTC product descriptions can improve your ranking in search results and lead to more sales.
What is the main focus of a product description?
product description examples don't just list product features. They identify the product details and then go on to explain how those features have value for the potential buyer. You can do this by establishing what pain points your product benefits or by appealing to buyer aspirations through power words.
What are the parts of a product description?
A complete description should include:
Product title. Product titles should identify what the product is and include related keywords. They can also serve as page titles for metadata purposes.
Product images. Detailed product images allow visitors to your online shop to clearly visualize the product.
Bullet points. Listing key features and technical details as bullet points allows a potential buyer to quickly skim the information and make a confident purchase decision.
Product copy. The product copy fully describes the product using descriptive words that increase a potential buyer's desire to buy. It should make clear why your target buyer should choose you over the same product type offered by your competitors.
You may also want to include social proof like online product reviews or customer testimonials to provide buyers social proof of the benefits of your products.
If your product is complex, you may want to add an FAQ section where you answer questions commonly asked by potential buyers. This can help with not just the purchase of your products but also increase your rankings in search results. When online shoppers type a question into Google, you have a chance that your product pages will appear.
What are power words in a product description?
Power words are descriptive words. They include:
Nouns like bonus and money
Adjectives like big and inexpensive
Verbs like save and win
Adverbs like now and instantly
By adding these strong words naturally to your product descriptions, you can hold readers' attention and build their desire to buy.
What agency is the best for product description writing services?
When choosing an agency to create your product descriptions, consider their experience working with D2C eCommerce business brands like yours. Stretch Creative has already worked with some of the largest and most well-known D2C eCommerce sites and knows what goes into writing marketing copy that appeals to the ideal customer of any business.
Should I use a product description template for my PDP?
A product description template ensures that the product titles, bullet points, copy and other components of your product descriptions look uniform in terms of placement within the white space of the page. A good website should have a unified look; however, the product descriptions should be unique. Simply plugging in product titles and changing a few points in the copy could potentially hurt your placement in the search results, as the search engines penalize duplicate content.
What details of a product should I include when I write product descriptions?
Your product description should include:
A short paragraph that introduces the product and draws the buyer in.
Key benefits and product features that illustrate product quality and utility.
Technical details like dimensions and materials.
Other relevant information that the buyer may need to know that doesn't add extra value to the product.
A strong call to action that encourages potential buyers to add the product to their carts.
Do product descriptions help with SEO?
Yes, DTC product descriptions can further your search engine optimization efforts and potentially bring your online store more traffic. By adding keywords to every product description, you increase the chances of your product pages showing up higher in the results when potential customers search Google and other search engines. Including internal links to related products in each product description can further assist in your efforts to increase SEO traffic.
The key is to ensure you're writing product descriptions with your target audience in mind. SEO should be a secondary concern. People reading every product description on your landing pages shouldn't realize you've added keywords. In any great DTC product description example, you usually can't tell what keywords the writer was targeting.