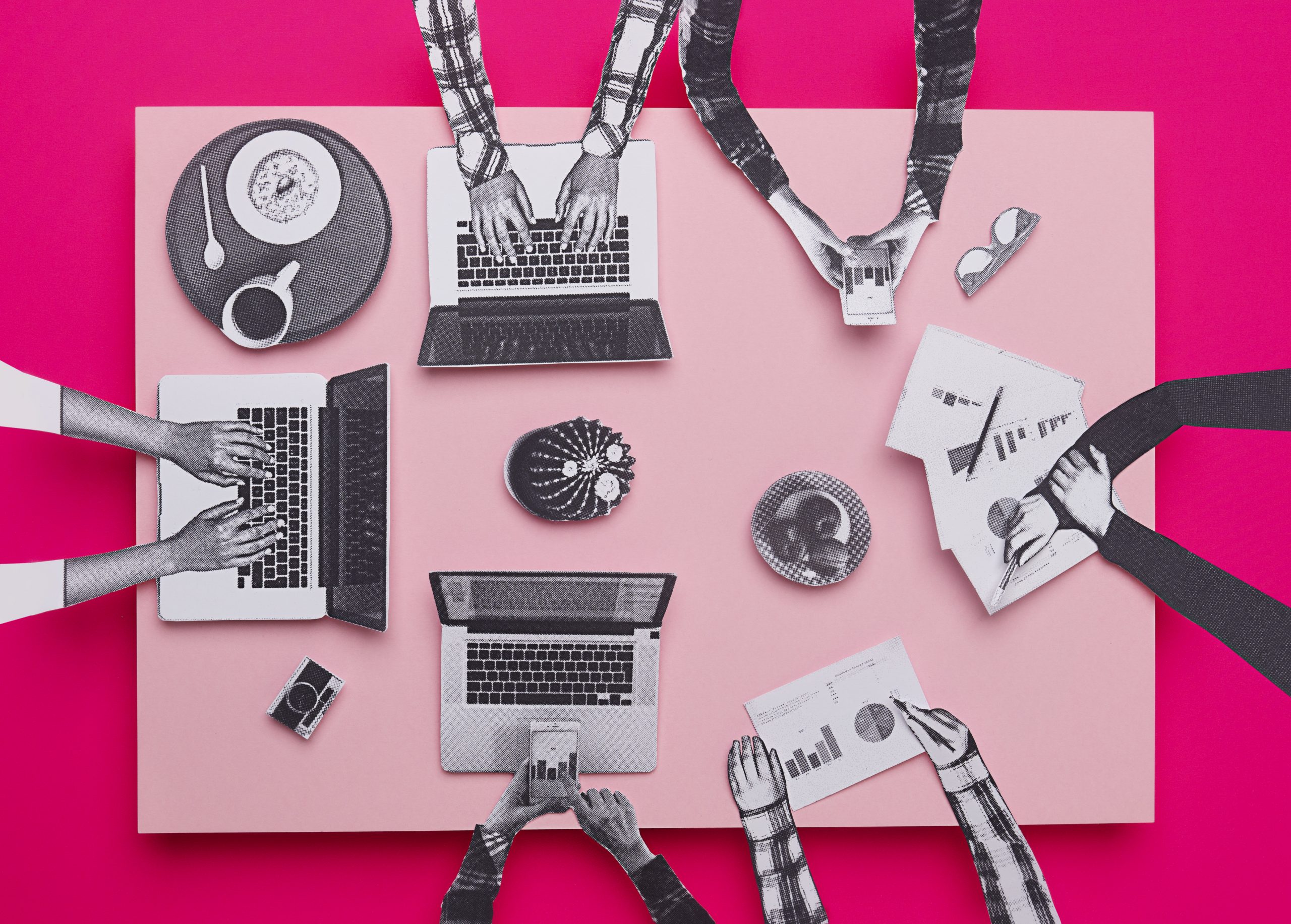 A new year, a new chance to develop a successful content marketing strategy and catapult your digital marketing campaign to success. Content is one of the most powerful tools that a business can leverage to attract its target audience and improve its rank with search engines. Do you have a content marketing plan ready for 2022?
We've created a content marketing guide to inspire businesses to rethink their approach to publishing content in the new year. With a well-founded content marketing strategy in place and high quality content, you can improve your brand awareness, search engine optimization, social media marketing, email marketing, and lead generation, all of which can combine to help you make more sales of your products or services.
Creating a Content Marketing Strategy
Your business's content marketing strategy is a plan for how you intend to use your valuable content to achieve your online marketing goals. Your company's digital marketing success hinges on its content marketing efforts. Without a well-thought content marketing in place, your content marketers may not be taking aim at the goals that are most crucial for your business's success. To create an effective content marketing plan, be prepared to:
Find Out Who Your Customer Is
In other words, who comprises your target audience? You can design your content marketing plan for more than one clearly defined audience too. By using different types of content, you can engage your target audience personas, leading them through the funnel toward making a sale or improving brand awareness. Your content marketing strategy should feature a detailed profile of your target audience so that you can tailor your content for them.
Choose How to Engage Your Customers with Content Marketing
What types of content formats do you intend to use to engage your customers? There are multiple vehicles for delivering your great content. Leading brands rely on multiple content types to connect with customers. Their content marketing roadmap typically features text-based content (i.e. web content, blog posts, landing page, etc), video content, or images.
Find Out What Information Your Customers Need
Content marketing strategies should include relevant content. What information do customers need to know about your business and its products or services? What do you need to tell them in order to promote brand recognition? What marketing messages are most likely to compel a profitable customer action?
Building an Audience
If you're like most companies today, your audience is online. That's why your content marketing plan should include strategies to grow your target audience, or rather, your customer base. Even Fortune 500 companies with hundreds of thousands of customers continue to strategize to build their potential customer base with their digital marketing initiatives.
Relevant content helps you to engage and inform your target audience via various marketing channels. Therefore, plan to create consistent content for your target audience to deliver via articles content marketing, social media marketing, and more.
Copywriting
Businesses need all kinds of copywriting for their content marketing plan. Every email, site page, social media post, blog post, ad, etc...requires content. Your marketing team will need to generate consistent content on a routine basis in order to attract existing customers and new customers to your brand. When developing your content, plan to:
Obsess over Your Headlines
Search engines find headlines important so you should too. Don't neglect the importance of headlines when creating content. Your headlines help readers scan your material for relevant content. Ensure that they contain strategic keywords and are directed to your well defined audience.
Write to Someone Specific
Your content marketers might have their marketing manager in mind, the company CEO, maybe even the company's board members, but your published content should primarily be directed to your target audience. If your inbound content marketing is generating sales, the CEO won't mind.
Keep It Simple
You don't need an elaborate content marketing strategy. You need it to be effective. It's okay--preferred--to keep your content simple, clear, and direct whether the content at hand is an email, blog post, or social media marketing post. Your audience isn't looking for Tolstoy; they don't have the time. Just deliver the informative content they need without unnecessary verbiage.
Types of Content Marketing in 2022
What types of content marketing in 2022 should your marketing strategy include? You'll have plenty to choose from. Generally, you'll need to create content for the following:
Website copy
Landing pages
Business ads
Social media posts
Business blog
Emails / SMS marketing
Press releases
White papers
Ebooks
Email Marketing
Yes, email marketing is still important and should remain a key element of your content marketing plan. Why? Because it still delivers a great return on investment. On average, email provides $36 for every $1 spent. And, if you want to improve that ROI, simply personalize your messages to increase conversions by 10%. Many companies, especially small businesses, neglect email marketing as an effective vehicle for delivering their content marketing. By using informative content to market to existing customers (those on your email list), they could boost traffic and make more sales. In short, email remains an effective content marketing delivery system.
Blogging
Do you have a business blog? Leading brands know that blogging with their own published content helps them build brand recognition, engage existing customers and strong relationships, achieve a better understanding of customers, and--oh, yeah--establish themselves as an industry authority/thought leader, which helps them improve their search engine optimization and boost organic traffic. Many companies do not take advantage of blogging and what it offers, possibly because it takes an investment of time and money to create consistent content, but blogging is a reliable traffic driver--and not a one-time success story either. Your old blogs will continue to drive traffic to your site and market for you on an ongoing basis.
SEO
According to Forbes, "SEO is less game and more integrated." What does that mean? It means you can't trick search engines with a bunch of keywords. You need damn good content to achieve page one ranking. To boost organic traffic to your website, you need your content to be optimized to the moon and, ideally, sprinkled with stardust. Well, you get the idea. Your content marketing plan needs to set aside resources for SEO-friendly content creation with a focus on the EAT SEO principle. Any digital marketing strategy today is going to prioritize SEO as a matter of course. Your content marketing strategy needs to include it too.
Useful Content: the Core of Your Strategy for Content Marketing in 2022
What's the point of useful content? It serves no one--certainly not your company's bottom line. Be sure that all of your content marketing messages are purposeful, impactful, directed to your target audience, and aligned with your targeted campaign. Simple.
Content Marketing in 2022 — Boosts Sales and Your Bottom Line
As you develop your content marketing in 2022 business goals, focus on your content marketing plan because it's a key driver for success. Content is the present and future of marketing, it's used by leading brands, and it should be the heart of your digital marketing strategy. Stretch Creative features comprehensive content marketing services; that is to say—we create ALL the content that businesses need to implement their content marketing strategy. We feature experienced, industry specific writers who can create highly customized content to help our clients achieve their business goals.
Content Marketing in 2022 FAQs
What is content marketing with articles?
Articles provide businesses with a vehicle for delivering relevant SEO-rich content to customers. This content not only informs and engages customers, but supports the company's SEO strategy.
Why is content marketing the best online marketing?
Digital marketing content allows your business to meet and exceed customers' expectations for informative content about your business and the value you offer them. It's your best bet for boosting organic traffic to your website and growing your business.
How effective is content marketing in 2022 for modern businesses?
Today, 90% of marketers rely on content marketing. Why? Because it works, and the better the content, the better the content marketing. Make 2022 your year to kickstart your content marketing campaign. Then, tune into the analytics and be amazed at your improved success.
What is good digital content?
When measured--and it is measurable--digital content ticks all the boxes of your online marketing campaign. It helps you:
Engage your target audience
Appease search engines and their sophisticated algorithms
Deliver crucial information to customers / potential customers
Improve brand recognition
Build brand loyalty
Boost organic traffic to your website
Generate more leads
Make more sales and grow your bottom line