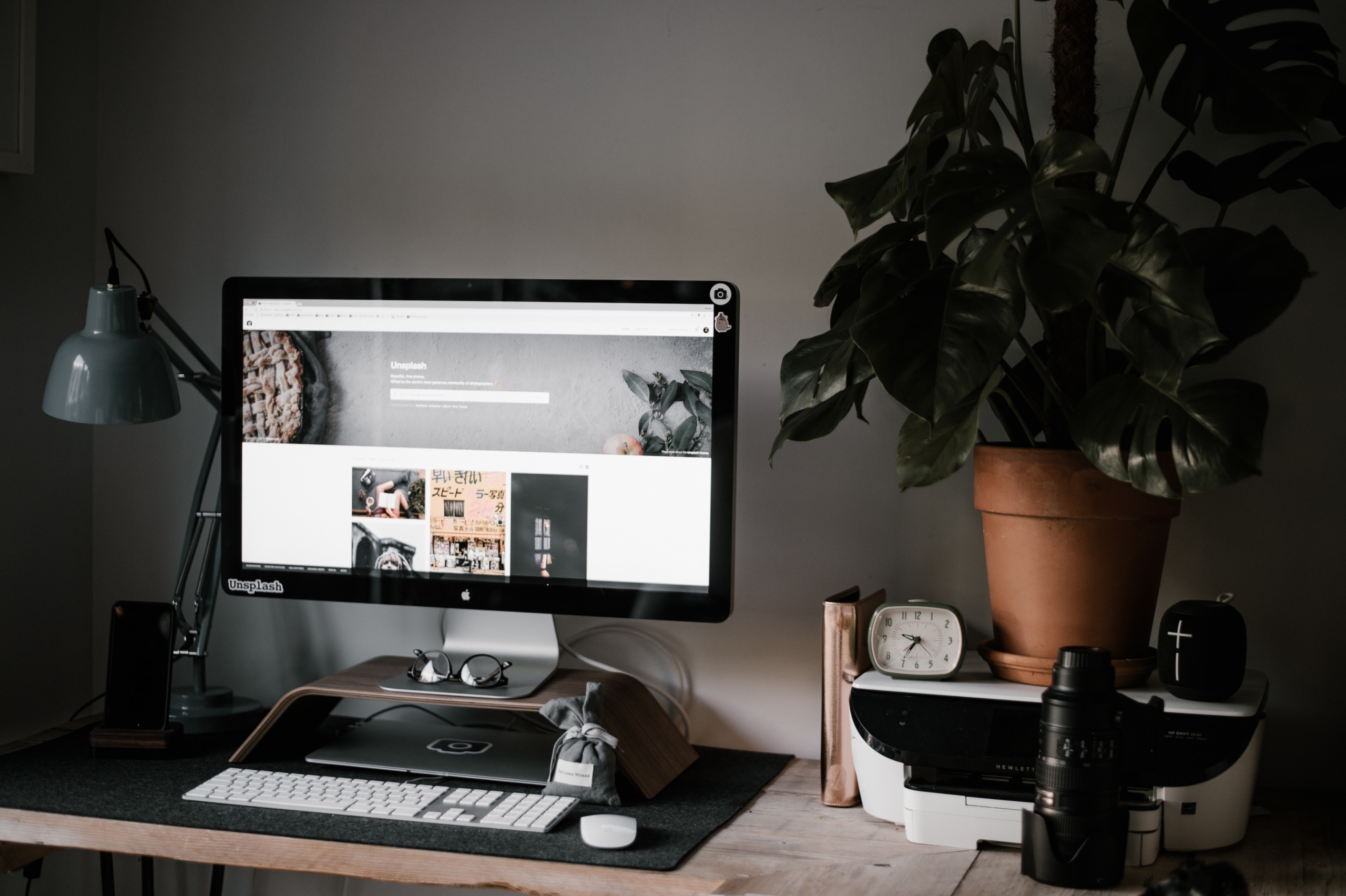 Writing product descriptions for all your listings online can seem like a daunting task—but don't let this deter from how important this content is in your e-commerce content strategy. The product descriptions (or as some call the PDP) is the last piece of content that your customer or potential customer sees before they add your product to their cart and check-out. When you read that out loud, it sounds pretty important, doesn't it? But, yet, it's one of the most neglected pages in e-commerce.
We get it, if you're a retailer or a brand that carries hundreds if not thousands of styles and SKUs, it's a daunting and difficult task to write this content every season or every product drop from your vendor.
If you're looking to increase conversion on your PDP and lower return rates it starts with your content.
What makes a good product description?
A good way to look at your product page is to consider it as your online sales associate. If a customer walked into your brick-mortar-store front, they would be met with a sales associate, who, if they did their job correctly would help your customer make the right purchase for them. Your product page should create that same experience.
Product descriptions need to be credible
When your customer reads your product descriptions, does it sound like the person who wrote this content knows the details of what makes that product special?
Credibility isn't about just listing off product details, specs, or features. Writing product descriptions that convert is about speaking of these features and details that your customer can relate to.
JackRabbit is an online ecommerce retailer that sells running shoes to all running types—beginner to advanced. If you've ever trained for a marathon or just decided to run a 5km fun run, you know that not all shoes are meant for any runner.

As you see in their product description for the New Balance Fresh Foam 1080v11 JackRabbit has credibility in what they're providing their customers. They talk about how the shoe is intended for runners with a high, more stable arch. That their customers who require a neutral shoe may see more excessive wear on the outside of the sole and then finish off by talking about this particular customer could see the pain in their shins and knees if they do not have a neutral cushion shoe.
The same shoe is sold on Kintec, another online retailer. Take a look at their product description, and ask yourself, "does this sound credible"?

The answer should be, no. When you read Kintec's product description, it lists details, but do they give you or their customer a reason why these details matter to you?
Want to be credible when writing product descriptions? Lead with empathy for your customer.
Writing product descriptions requires you to be consistent
When writing product descriptions they should be consistent across all the products you offer.
One of the better retailers that are doing this is Foot Locker. When you hit a product page on Footlocker.com you are met with a consistent voice, tone, and layout of content.
Look at the following examples of the Nike Air Force 1 and the New Balance 574, you'll see both provide an element of storytelling, features, details, and benefits.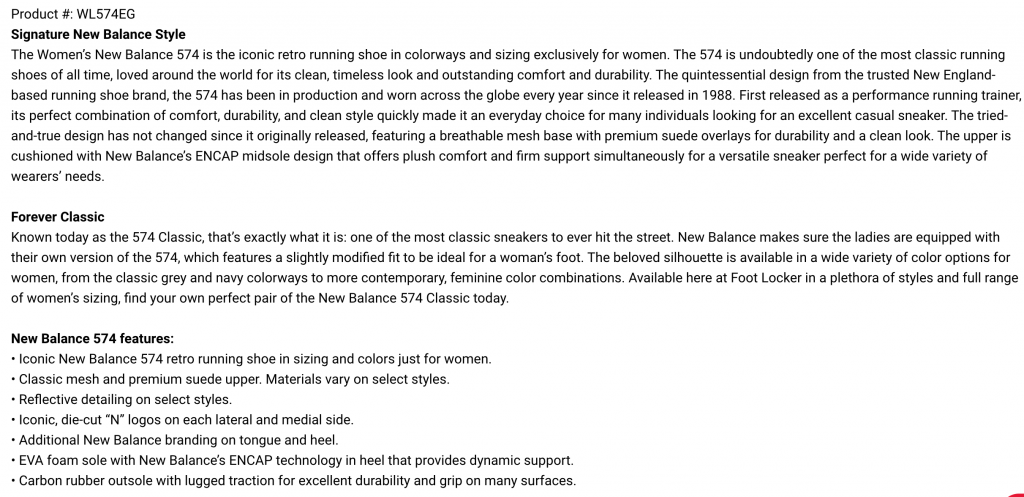 The best way to ensure you're being consistent on the product page. Create a comprehensive style guide on how you write your PDPs.
Your product descriptions need to be accurate
Returns in ecommerce are a ticking time bomb waiting to go off on your bottom line. Not only do they cause havoc to your supply chain costs, but your returned products are often left unable to be resold.
There are plenty of reasons why your customer would want to return their product that you bought from you. It didn't fit properly, it wasn't what they thought it was, it was the wrong color, it was implied it was water-proof, and the list can go on, and on.
One of the lowest hanging fruits to avoid unnecessary returns is to make sure your customers know exactly what they're buying. It's better your customer realizes it's not the right product before they buy vs. your customer buying the wrong product for them and returning it.
Product descriptions aren't advertising
Customers don't want to be sold at every touchpoint in their buying journey. If your customer has made it to your product page, you've likely done a good job already selling them that you have something they might need.
When it comes to your product descriptions, it's not about sell, sell, sell. Reframe your PDP content to reassure, reassure, reassure. Reassurance is a form of emotional selling. It aligns your brand to what is best for your customer.
Think about a time when you bought something and you felt "sold to" and now think of a time you bought something and you felt like you were provided a solution to a problem or provided a product that will enhance any area of your life. What company would you be more inclined to go back to and buy from, again?
How do I write product descriptions at scale?
You might be thinking to yourself now, "these points are great, but how do I write product descriptions at scale?". Don't fret, here are a few options that can help your ecommerce team write product descriptions for your ecommerce store.
Product copy software
One of the tools that our team at Stretch leverage to help us write product descriptions at scale is Talkoot. Talkoot is the first of its kind—a web-based product copy production tool that allows your writers, editors, researchers, and approvers to manage their product copy creation in a simple-to-use tool designed for writers by writers. Whether you're a small start-up or an enterprise giant like Adidas. Talkoot helps save time, lower errors, and align brand voice.
Hire a content agency to write your product descriptions
In-house brand creative teams can often run lean, and as we've learned, with hundreds, if not, thousands of new styles and products dropping all year long, this isn't an easy feat to do properly.
Find a content agency that has experience working with brands that are similar to your niche. Are the writers they have experienced with the industry you serve? Do they have a passion for the products you offer and can they relate to the customers you sell to?
If your team doesn't have the bandwidth or needs support, reach out to our team at Stretch to explore if our ecommerce content services align with your current needs!