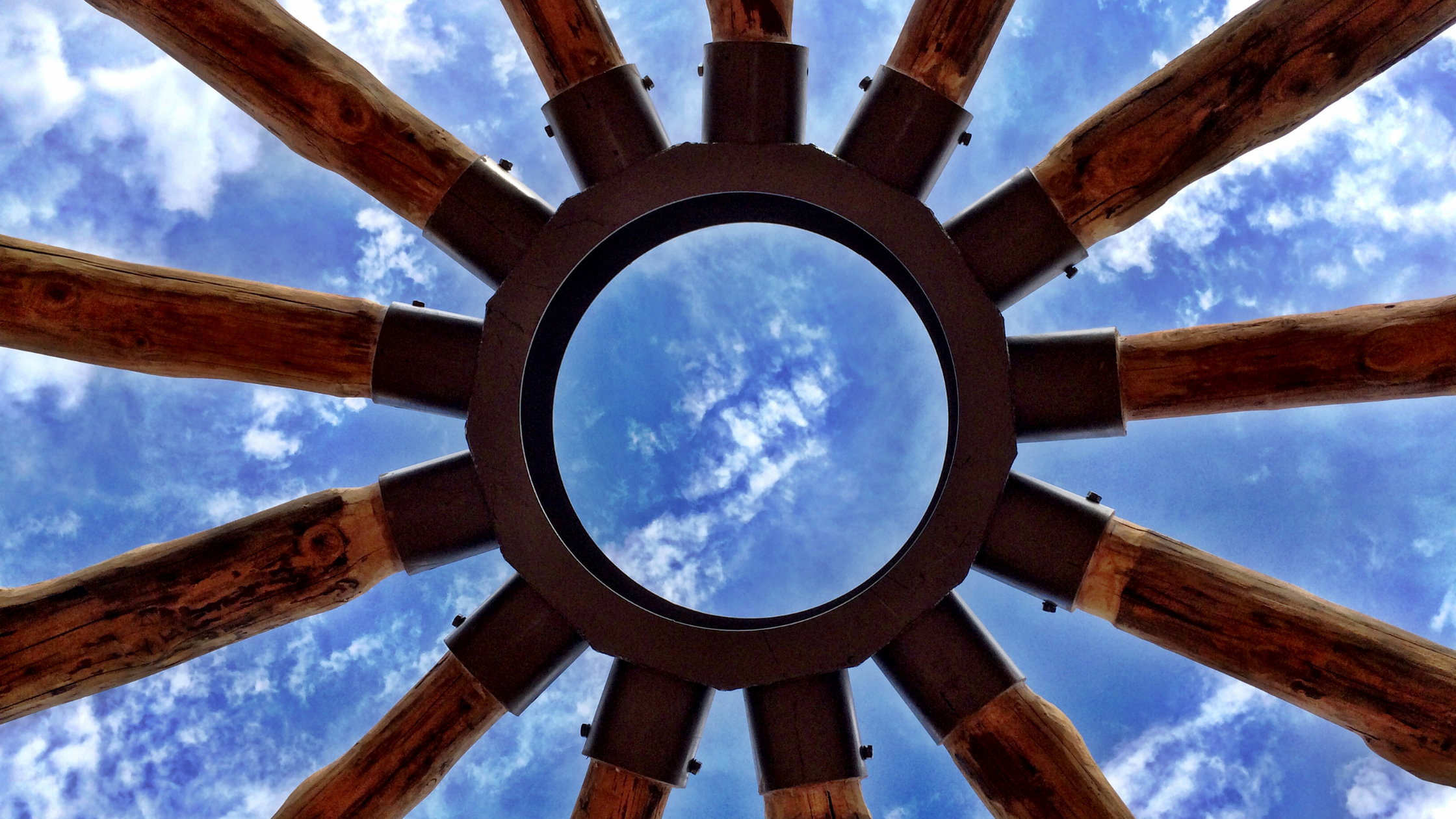 The hub and spoke wheel has existed since 2000 BCE. It has more than proven its worth on the world's highways and byways, but it seems the hub and spoke model has something to offer digital marketers too. Building a strategy that's based on the hub and spoke content model is an effective way to drive traffic to your website and offer potential customers a reason to stay on your site, making use of content that offers them some value. 
The spoke model isn't the only content strategy your business or organization might adopt, but it is ideal for helping companies capture leads and increasing customers' time spent on websites, landing pages, blogs, etc. This type of content marketing strategy can also support search engine optimization efforts, ensuring that you create content that will attract the search engines as well as potential customers. Here, we'll explore the hub and spoke strategy and how it can support your company's content strategy.
Table of Contents
How does the hub and spoke model work?
Spoke content is content that revolves around a central hub. Let's say that you operate a business in the airline industry or transportation industry. If a trucking company, for example, wanted to adopt a hub and spoke content marketing strategy, they'd designate their hub content, which would relate to their key transportation services, and then create spoke content related to the hub in some way. The hub contains the main content while the spokes embody sub topics.
Consider this example. Say your company offers addiction treatment. Your hub content relates to the addiction treatment services that you offer. However, in order to improve your SEO, attract more visitors, and create a more authoritative online niche for your business, you'd want to create related content. To that end, your spoke content might include articles about specific types of drugs, how to pay for rehab, advances in rehab treatments, sober-friendly things to do in your city, etc…
Your central hub content would naturally include your targeted keywords while your spoke content would also include relevant keywords and long-tail keyword phrases designed to support your SEO and attract more organic traffic to your site. Quality content will help ensure that these visitors don't bounce.
Things to consider when developing a hub and spoke content strategy
When you develop your hub and spoke content, you'll first need to think about your hub content. The hub content is your main content. Each spoke will then provide additional quality content. The concept is that simple, but the variations on the hub and spoke strategy in terms of specifics are infinite. Your supporting content can relate directly or even indirectly to your main hub content; however, it should necessarily relate to your central hub in some way.
In order to drive traffic to your website and ensure that it doesn't bounce from your site too quickly, your content marketing team should reflect on the following:
What relevant information can your company offer visitors to your website?
What benefits can your quality content provide to customers and potential customers?
What content forms provide the best vehicles for your content? (i.e. land page, blog post, white paper, etc…)
What goals do you expect to achieve with your hub and spoke content?
Of course, designing a content marketing strategy will necessarily involve many factors. Who will create content for your hub and spoke model? How will you measure the success of the content? Who will perform your keyword research and ensure that your central hub and spoke content is SEO friendly? To create high-quality hub and spoke content, you'll need to craft your content marketing strategy with care.
Advantages and disadvantages of hub and spoke content models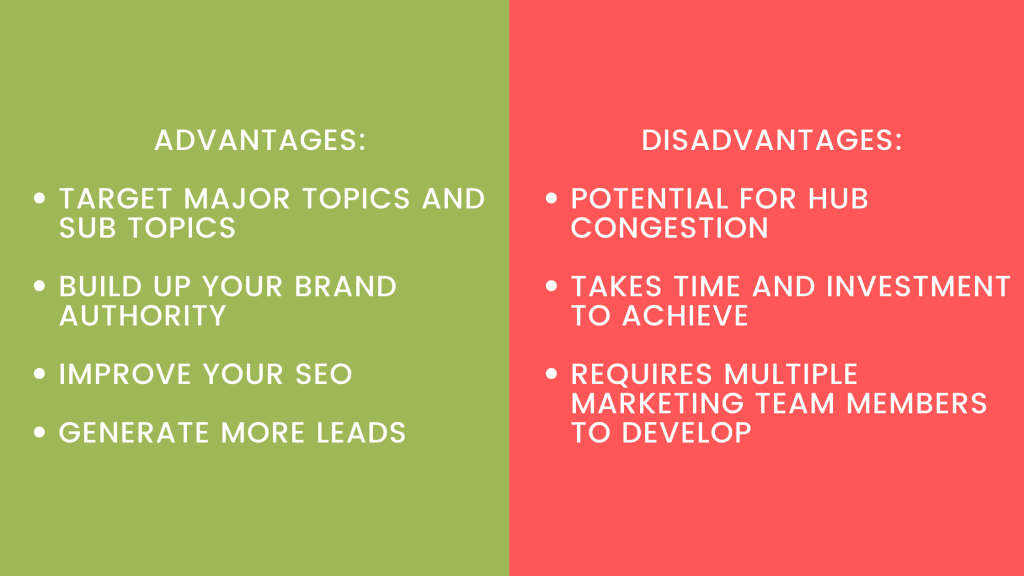 A hub and spoke model can provide many benefits to your business. Some of these advantages are:
Your business can target major topics and sub topics that are crucial to your marketing plan completely
You can build up your brand authority more easily with a hub and spoke model
Improve your SEO because hubs and spokes offer more organized site with more opportunities to create backlinks in each article or blog post
Hub and spoke models help to generate more leads
Of course, a hub and spoke model isn't the only way to develop a content marketing strategy. Some businesses prefer to create content using a point to point model or point to point system, which involves more direct content delivery. Plus, there are a couple disadvantages to look out for when using a hub and spoke model such as:
The potential for hub congestion 
A hub and spoke model takes time and investment to achieve
Requires multiple marketing team members to develop (usually)
Planning and creating hub and spoke articles
You can create content for your hub and spoke model by beginning with some keyword research. This can help you identify your hub content and then your spoke content. After you gather your keyword data, you can begin to assign these keywords to your hub pages. You can, of course, create multiple hubs depending on the scope of your content marketing strategy. Next, you can begin to assign keywords to your spoke content pages. If you have older content, you may even be able to refresh it to reuse as spoke content.
After mapping your keywords for each article or other piece of content, you can then create your content. Regardless of any model you employ, you need to create high quality content. Without the quality, no content strategy is likely to succeed with the search engines today. It's SEO quality-content that will improve your search engine rank and drive traffic to your website.
Hub and spoke content strategy and the funnel
Earlier on, we discussed goals and your content. When you create content for your hub and spoke strategy, you'll want to develop articles or other content that addresses website visitors at each stage of the sales funnel. You can use your spoke content to raise brand awareness. Your can create content that specifically focuses on lead generation or is designed for paying customers. Creating content for each stage of the sales funnels will help you realize a more fully developed hub and spoke content model.
Why is hub and spoke important for SEO?
With its focus on targeted keywords and keyword research, a hub and spoke content strategy lends itself to search engine optimization. Creating content based on the hub and spoke model allows you to comprehensively cover important topics that are relevant for your business; that makes for improved SEO. Your hub piece and supporting content helps you build up your business authority on each topic you address. Great content that's optimized can give your business the marketing edge it needs to outperform its competitors.
Create hub and spoke content with a content leader
Stretch Creative works with companies to create content for their hub and spoke model. While working in accordance with your business's content marketing strategy, we can develop great content that will help you achieve your content marketing goals. Our creative team members are professional writers and editors who have years of digital marketing experience. Our writing services are always customizable and SEO friendly. Feel free to consult with us about your content needs; we can help you develop a plan that suits your needs and budget.
Hub and spoke content FAQs
What is a hub in marketing?
In marketing, specifically content marketing, the central hub will include content like an article or landing page centered on a specific topic.
What is spoke marketing?
Spoke marketing refers to spoke content, which is content that supports main hub content. Spoke content typically provides additional information related to the main hub content.
What are the benefits of a hub and spoke system?
When using a hub and spoke model for content development, your business can expect to cover topics more completely. This complete coverage leads to more SEO-friendly content development and greater authoritativeness for your website. Hub and spoke content models are associated with increases in website traffic and improved lead generation.
What are examples of hub and spoke content?
If your business provides home remodeling services, it could create hub content centered generally on home renovations. Spoke content could include kitchen renovations, bathroom renovations, post-flood or fire renovations, home additions, and so forth.
Is the hub and spoke model good for SEO and organic traffic?
Yes. The hub and spoke content marketing strategy is ideal for SEO. By addressing hub content topics completely with the support of content spokes, you can attract more website traffic. 
Is the hub and spoke content model ideal for any industry?
Virtually any business in any industry can employ the hub and spoke content marketing strategy. Hub and spoke content can support your marketing goals whether your business sells products or services. 
Do search engines favor hub and spoke content?
Hub and spoke content is conducive to SEO, more so than other models. However, a hub and spoke model cannot replace quality content. SEO-friendly content is still crucial regardless of any content marketing model your business employs.