With the ever-changing digital landscape, we have put together a thorough guide on eCommerce content. Whether you're a retailer selling online or a DNVB, words matter in the e-commerce industry. Your online store has no fitting rooms. There are no flashy signs or displays to grab customers' attention, no shelves for them to browse. You can't encourage add-on sales by placing impulse buys at the counter. No smiling sales staff is waiting to answer questions, overcome objections and close the deal.
The words on your site must take the place of it all, so you can't afford to leave e-commerce copywriting up to just anyone. At Stretch Creative, we got you covered with e-commerce copywriting services that will have customers filling their carts and checking out like you're selling flat screen TVs on Black Friday.
Brand voice guidelines
What superhero would your store be? The wholesome, all-American former soldier? The super-intelligent scientist that can make a massive impact? The sleek, mysterious anti-hero with a little bit of grit?
Your products can save the day for someone, but you need the right script to convey your character to your target audience. What you need is a sidekick who always knows the right lines to say--brand voice guidelines.
Brand voice guidelines spell out in words the way your company talks to the consumers most likely to buy from you. They establish your attitude, personality and language.
What they do:
Brand voice guidelines serve as a starting point for writing compelling copy. Pro e-commerce copywriters use them when writing product descriptions, blog posts and other branded ecommerce content. Your in-house team can, too. Good guidelines take your epic back story into account. They embody your vision, mission and values and identify your ideal customer in vivid detail.
Why you need them:
Nobody likes it when the hero gets recast in subsequent chapters. Your brand voice must remain consistent across all your ecommerce content channels. A strong voice can make your store as easy to identify as a shield with a star on it or a yellow and black bat symbol. With our brand voice guidelines service, we can write guidelines that define exactly what voice your brand will speak in, ensuring that every sequel to your blog, website and other copy is a summer blockbuster with box office results to prove it.
Content Strategy
If someone said they'd give you a million dollars if you beat them at Monopoly, would you just grab the thimble and hope for the best? Hell no. You'd go in with a plan of attack. Some things come down to a roll of the dice, but you'd play smart because the stakes are just too high.
You're probably not selling million-dollar items with your content, but that doesn't make winning the game any less important. Crafting ecommerce content without direction is as dumb a move as buying the Electric Company at full price. That's why you need a foolproof content strategy written down in black and white.
Your ecommerce content strategy maps out how you'll drive traffic to your website, generate leads and convert visitors to sales. With our industry expertise, Stretch Creative can put together a content strategy to bring in revenue like hotels on Boardwalk and Park Place.
What it does:
Ecommerce content strategy starts by defining what you want to accomplish. It goes on to describe your target market and outlines what kind of ecommerce content you'll use to reach your ideal customer. In addition, the strategy spells out how what you say will differ from other online retailers in your niche, ensuring that you stand out among competitor brands.
Why you need it:
Even the highest quality copy that ecommerce content services can produce is no good without direction. Your strategy helps you get the most out of your investment in creating content. It ensures you'll be focused on smart moves like buying up all the railroads on that Monopoly board and not throwing your cash away on those worthless single properties.
Website Content
Say you buy a scary book online based on the reviews, the publisher's blurb and the artwork on the cover. When it arrives, you crack open the spine, eager to start reading about that killer clown or spooky pet cemetery. But instead of that spine-tingling tale, the pages are mostly blank except for what appears to be a few child's drawings.
Beyond maybe making for a funny "WTF did I just buy?" story for your socials, that book would be worthless. You'd return it or let it collect dust on your shelf. And you definitely wouldn't give that author another shot.
When it comes to your website, you don't want blank pages either. Website content turns those white spaces into messaging that can help you boost sales if it's well crafted. Settling for the same old tired copywriting every site uses isn't much better than leaving your site empty. You want website content that engages people who land there through search engines and direct links. Stretch Creative is the expert at writing copy for websites that makes browsers want to stick around, explore your webpages and ultimately become buyers.
What it does:
Website content is the text, audio and visual components found on the pages of your e-commerce website. It makes a first impression on every prospective customer who visits your online store and tells your brand story, so they know who you are and what you have to offer.
Why you need it:
High quality website content is as vital to a successful e-commerce business as that killer plot line is to a New York Times best-seller. Website content is important for search engine rankings, too. An experienced e-commerce copywriter can sprinkle in keywords to help drive traffic. The content can play another important role in SEO by creating opportunities for backlinking.
Blog Content
If you came down with a mysterious illness, who would you want to treat you: Dr. Nick Riviera of The Simpsons or Dr. House? Of course, you'd pick the latter. Dr. Nick might have a fun catchphrase, but there are some serious doubts about his level of expertise. You can trust Dr. House to not only know exactly what was wrong with you due to his encyclopedic knowledge of rare diseases but to amuse you with his sarcastic wit.
You want your buyers to think of your company as the expert in your field. Well-written blog posts give you an opportunity to show that you are. A blog post is a short article written on a topic of interest that relates to your products and services. Stretch Creative can craft copy for blog posts that are snackable and speak in your brand voice, clearly communicate with your customers, and shows that you're a Dr. House rather than a Dr. Nick.
What it does:
Blogs make it possible for you to keep in touch with your clients and continue by giving you content that you can add to your website and share on your socials. By helping to establish you as an expert, your blog can also boost your conversions and help make your ecommerce site a success. You can promote your posts to reach out to consumers who can benefit from your products and services but have yet to discover them.
Why you need it:
When properly SEO optimized with keywords and backlinks, blog posts can help your website move up in the search rankings. Every blog post you add means more landing pages for the search engine algorithms to access. Plus, blog posts can increase the amount of time that people spend on your website and encourage them to visit more pages, two things that can please the search engine gods.
Category Pages
Imagine you're an alien who's been sent to Earth to perform a random act of kindness for the first person you meet. You find them quickly, introduce yourself and they come up with what you can do in a flash—do their shopping at the local big box store so they don't have to. They hand you a list a mile long and give you a push toward the automatic sliding doors.
Although your advanced technologies can translate the list into your alien tongue with no problem, you don't know what a dishwasher detergent or Mexican-blend shredded cheese is. How will you ever find what you're looking for? Just as you start to panic, you realize that the aisles in this store are marked and the products are categorized. The layout makes it surprisingly easy to find all of the human's desired items. You complete your mission flawlessly and receive a hero's reception on your home planet. Thank Grabthar's hammer for those aisle markers, huh?
The prospective buyers who come to your online store probably aren't aliens, but they too will appreciate being able to easily shop your ecommerce site. Categories allow them to find what they're looking for quickly, making them more likely to make purchases. The landing pages for your categories show the thumbnails of all of your products and have space for copy. Don't worry if you don't know what to put there. We got you.
What they do:
In the world of e-commerce copywriting, category pages refer to the copywriting found on the page. If you research your e-commerce competitors, you'll quickly find that many category pages fail to impress. The bad ones are loaded up with keywords for SEO but don't say anything of substance to actual people. Stretch Creative can create copy for your category pages that provides real value. Let us write your content and every category page on your site can give your shoppers handy buying tips, interesting background information and recommendations for add-ons to give you out-of-this-world conversions.
Why you need them:
Like blog posts, category pages can boost your keyword usage and increase backlinking to help with SEO. Plus, the details they provide can help even an alien to confidently choose the best products for their needs.
Product Descriptions
No metaphors here. Just a simple question, which of these product description sentences is better:
"The tumbler holds 18 ounces and is made of multiple layers of stainless steel."
or
"Multiple layers of stainless steel make the tumbler resistant to wear and tear and provide insulation to keep up to 18 ounces of your favorite beverage at just the right sipping temperature for longer."
Unless you're a troll, you'd say the second one. Great copy for product descriptions doesn't just mention the features of what you're selling. Instead, they turn those features into benefits that speak directly to the prospective buyer.
Because product descriptions are the main way that you will sell your products and services online, you can't afford to put anything less than the best copy on your site. We mean it when we say that we're e-commerce copywriting experts. Our team can write benefits-driven product descriptions that speak in your brand voice and encourage every site visitor to make a purchase. Plus, our expert e-commerce copywriter team can advise you on what word count is right for your store and use your feedback to make edits as needed.
What they do:
Great product descriptions build desire in shoppers. They make them feel as if they can't afford to buy any other product from any other e-commerce website. Product pages filled with high quality e-commerce copywriting can make what you're selling shine. In addition, clearly written e-commerce copy helps to reduce confusion, meaning fewer returns and far less hassle for your customer service rep.
Why you need them:
A quick competitor analysis will show you that many product pages online today are sorely lacking. By filling yours with well-written product descriptions, you can increase conversions. Professional commerce copywriting services for product descriptions is also optimized for SEO, increasing the chances of your pages ranking highly in search results.
Product Photography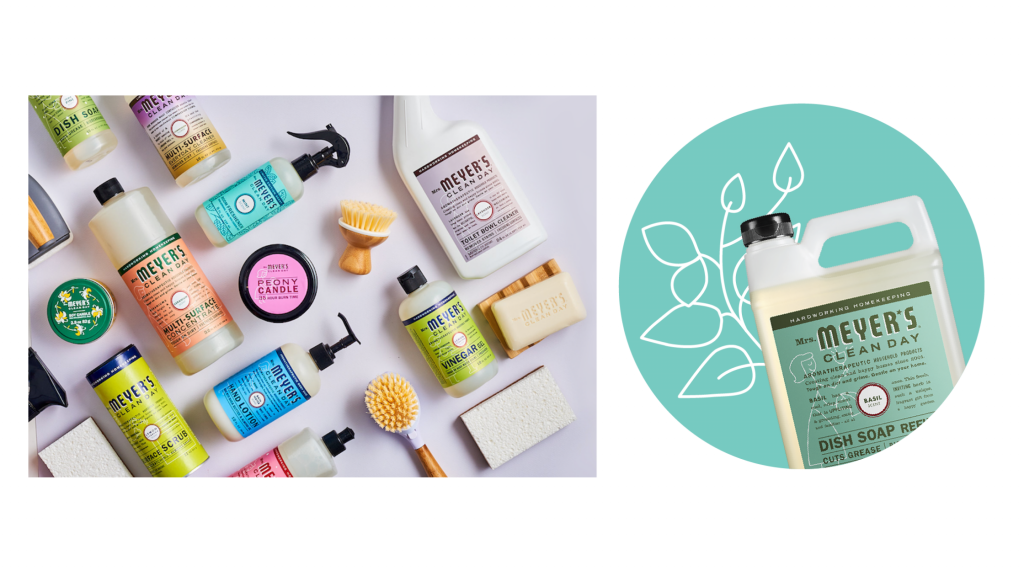 Would you ever consider using your driver's license photo to represent you on your website? Hell no. Most of the time, DMV photos come out looking like mugshots even if you say "cheese" with max enthusiasm.
Although the line you wait in might seem long enough for you to have aged a couple of years before it's your turn to go in front of the camera, your appearance doesn't change inside the DMV. So what's the problem?
First, there's the poor lighting. Factor in the rushed pace and the single one-size-fits-all camera angle and the fact that the person snapping the photo has no professional training, and it all adds up to a picture you hate showing.
The same conditions that lead to those embarrassing ID photos matter when it comes to your products. Stretch Media professional product photography helps you ensure your products look ready for Instagram, not the result of a six-hour wait at the DMV.
What it does:
Our product photography service allows whatever you're selling to appear on your website pages in the best possible way. Our professional photographers know what type of lighting works. They're experts at displaying merchandise in an appealing way and will take the time to capture all of the important details so that your buyers can clearly see what they're buying.
Why you need it:
Product photography can assist with the buying process and make or break conversion rates. After product descriptions, they are one of the most important factors for determining whether or not visitors purchase from you or a competitor. Great images also have the chance to be shared on Pinterest, Instagram and other social media sites, giving you more ways to reach your target market.
Buying Guides
Say you find yourself in New York City's Chinatown, and you're suddenly starving. You find a row of restaurants and start perusing the menus posted outside. The first establishment has a lengthy menu written entirely in Mandarin. At the next restaurant, the menu is also written in Mandarin, but there are photographs of the dishes. Posted outside the third restaurant is a menu with just the names of the dishes in English. The last restaurant on the block has a menu with lengthy, tantalizing English descriptions of each dish written. Which restaurant are you eating at
Unless you're feeling adventurous, you'd probably opt for the last one. They've made ordering as easy as possible by telling you everything that you need to know about what they're serving. When it comes to your store, you want to be that final restaurant, the one that allows shoppers to easily make an informed decision about what they're purchasing
Buying guides are your all-English menu. They break down what customers need to consider when buying the types of products that you sell. Unfamiliar terms are clearly defined for customers, and answers to common questions are answered. Stretch Creative can help you decide which buying guides would be most beneficial for your site and then create content that speaks directly to your ideal customer in an engaging way.
What they do:
As an expert in whatever you're selling, you understand the benefits of various aspects of your products, but your customers likely lack that expertise. Buying guides enable customers to make informed decisions and head to the online checkout with confidence.
Why you need them:
Having buying guides on your site can lead to increased conversions, as shoppers are less likely to decide that they need to do more research elsewhere before they buy. They can also lower return rates by ensuring that shoppers consider important aspects of your products. From an SEO standpoint, buying guides can help your store become discovered by people who search terms like "how to choose a television" or "buying skis."
Local City Pages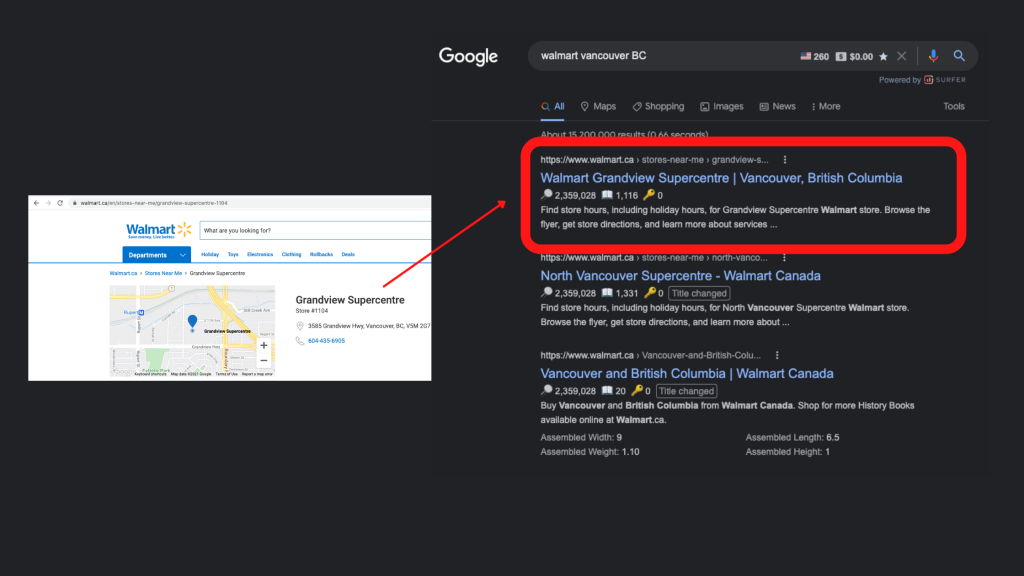 Once upon a time in a land where the Internet didn't exist, there was a book of knowledge called the yellow pages. Brave messengers deposited these mystical tomes on the doorsteps of businesses and homes. Those fortunate enough to receive one of these books were granted the ability to quickly find every plumber, pet supply store and attorney serving their local community. All one needed to do to tap into this unparalleled power was to flip through the pages using the alphabet as their guide. They could then find the products and services that they yearned for, make a phone call and live happily ever after.
The Internet has made those hallowed yellow pages of old obsolete. Now, people can simply type in a product or service and their city to get a list of stores or providers. If you have a brick-and-mortar store with a well-optimized website, your business is likely to appear when someone searches for the city included in your address.
But what if they search the next town over?
There's a chance that your site might appear organically, but it might not. Local city pages help the odds be ever in your favor. These website pages outline your products and services and are optimized to include references to cities that are nearby your location.
What they do:
The purpose of a local city page is to provide a geographic-themed landing page for search engines. All too often, small businesses forget about what happens when someone actually lands on the page. They make the mistake of writing city pages only with the aim of repeating the target city a certain number of times. The content ends up robotic and boring. Stretch Creative writes city pages with customers as much in mind as search results. We can craft content that makes a great first impression and clearly spells out why people in a certain city need to choose your business.
Why you need them:
In a world without yellow pages for a greater metro area, optimized local city pages with excellent copywriting are the best way to ensure that your business is discoverable throughout the region that you serve. When written with flair, these pages can increase foot traffic, emails and phone calls to your business, giving you more leads for sales.
Brand Bios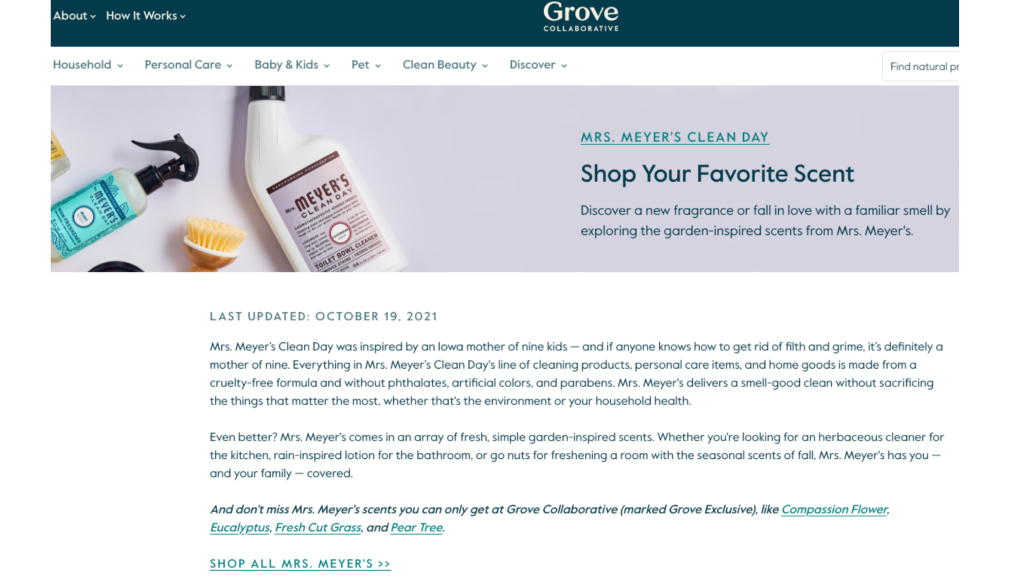 When you go to see a musical or a play, there's always a program that has photos and biographies of the cast members. They don't just kill all those trees to make the programs so you have a little reading material to keep you busy during intermission. Being able to learn more about the cast members that you see onstage enhances your enjoyment of the performance. If someone really blows you away, you might even find yourself tracking their career so that you can see them in a future production.
The brands that you carry are the stars of your online show. Just like the ones in the program, brand bios provide a quick introduction to all of the ones that you feature on your site. Stretch Creative can write engaging, unique bios that describe every brand in language that sounds just like the rest of your site.
What they do:
Brand bios give shoppers more insight into the brands that make the products you're selling. When well written, bios highlight the benefits of choosing that particular brand over competitors sold elsewhere, increasing the desire to buy now. Plus, bios boost a brand's credibility and build trust by sharing its history, mission and values.
Why you need them:
In addition to contributing to sales, brand bios can benefit your SEO efforts, increasing the chances that your site will turn up in results when someone searches for a brand name online. Having bios available means visitors won't have to leave your site to do research of their own, making it more likely that they'll buy now.
Email Copy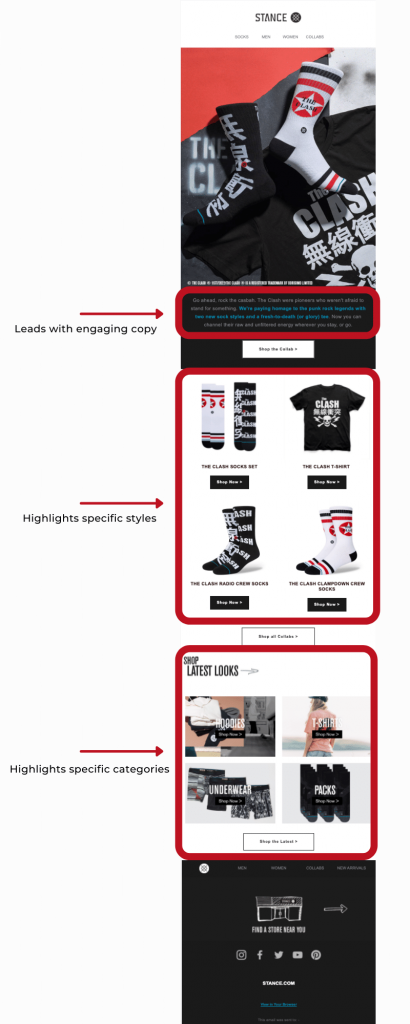 Be honest—how often do you actually open and read the emails you get from all of those retailer mailing lists you signed up for? Yeah, that's what I thought.
Most of the time, you just check the boxes to bulk delete. Gmail even makes it easy by putting them all in their own neatly organized tab.
That doesn't mean that email marketing isn't worth your time. Those emails can still lead to sales but only when they're well-written. Effective emails have a curiosity-sparking title and engaging content, and at Stretch Creative, we know how to write the good kind. Our team can give you copy that entices clicks rather than deletions, and we also got you covered on your email boilerplate for common inquiries.
What it does:
Email copywriting gives you another way to communicate directly to previous buyers and those who opt in to receive messages. You can use them to announce new products, advertise sales and even educate your customers about related topics. They allow you to keep in contact, helping you stay upfront in customers' minds.
Why you need it:
Professional email copywriting won't just give you the chance to score more sales; it also helps to ensure that your brand voice remains consistent across all channels of communication. When handling customer service inquiries, a well-crafted boilerplate sets your team up for consistently positive interactions.
User Generated Content
Let's return to our alien big box store shopping trip story from before.
Say one of the items on your list just said cheese. You get to the refrigerated section, and your eyes widen. There's cheese cut into thin strips. Square-shaped cheese. Big hunks of cheese. Each cheese apparently prefers to be called by a different name like Cheddar and Mozzarella. You see one's called American. As you're in the U.S., is that the one you're supposed to buy? Are all of the other ones for international tourists?
What do you do? Probably ask someone for some feedback about which of these many, many cheese options was the most pleasing to humans. They'd have a great story to tell, and you'd feel better about coming back with that wheel of brie.
It's not just aliens who value other people's advice when it comes to products and services. We seek out opinions all the time through social media and in face-to-face interactions. And many people also like to check out user-generated content while shopping online for the same reason.
User-generated content refers to sections on your product pages that customers can interact with. Online reviews are the most common, but you can also have areas for people to pose questions or even post photos or videos.
What it does:
User-generated feedback is a helpful human standing next to the cheese case waiting to give advice. It helps shoppers feel more confident about the products that they're going to purchase and reinforces the benefits that you outline in your product descriptions.
Why you need it:
Including user-generated ecommerce content is one more thing you can do to strengthen your SEO. Search engines often prioritize sites that feature product reviews over those that don't. A site with well-optimized copywriting might even appear in the search results when someone searches for reviews for a specific product or product category.
Need help with ecommerce content? Reach out to Stretch Creative today!
Your ecommerce content matters. You need to fill your pages with great pictures and content that speaks in a voice that appeals to your customers and allows your products to shine. You need a blog to show you're an authority and brand bios to show that the people who make the stuff you sell are experts, too.
But first things first—you need a smart plan to map out how you'll do all the rest.
For that, you need Stretch Creative e-commerce content. We don't talk, think or act like the other guys out there, and our unique experience, perspective, and approach make us stand out among the competition. Let us prove it to you. Contact us today. We've got words waiting.